May 16th, 2004: We were suppose to be welcoming our first guests this morning, but instead we got snow. The lake is still good and frozen, but there's still hope for good weather and a quick break up. Everybody thinks that when it starts to go, it's going to go in a hurry.
Here's a picture taken near the end of the day….it would have been too discouraging to show one of the snow flying this morning.
Try not to notice the big snowbank that has not melted yet.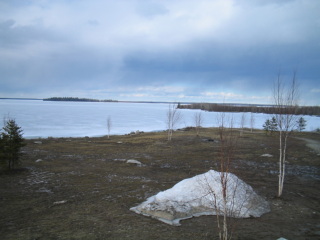 If you look close enough you can see a few feet of open water along the shore that was not there yesterday. I think the sun followed by the rain yesterday did most of the damage.
Thankfully some of the best fishing at this time of year is in the back bay which should be wide open before the end of this week.
I'll update as often as possible.