I'm getting ready to hit the road with Tom to promote fishing and hunting at Bolton Lake and our Outpost Camps!  We will be in St. Charles, IL starting on Thursday at the All Canada Show with a ton of great exhibitors and displays!  The All Canada Shows promote only Canadian fishing and hunting destinations, they have great speakers, some nice boats and a pretty good shore lunch.  For tackle, Thorne Brothers set up a pretty good shop with some great gear for big Pike and Walleye so you can come book and trip and buy some tackle at the same show!  Please check out my sport show page for more details about the shows I'm attending, I'll also be in Green Bay, WI and Minneapolis over the next few weeks.
I was not really planning to do a winter road this year as I was waiting for a piece of equipment to become available later in 2017 and then I was going to bring it to the lodge in 2018.  However, I have a good contact from Norway House who thinks it would be a good year to get some equipment to the lodge this winter.  I'm looking at replacing some fuel tanks and leaving my side by side Ranger at the lodge this winter, hopefully we can make that work over the next couple of months.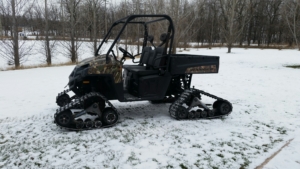 Here is the Ranger, I'll switch the tracks back to tires for the fishing season, but the tracks will come in handy to get it into camp!