Bolton Lake Lodge & Outposts
---
---
---
---
COVID-19 Updated information:
As many of our guests are aware, Bolton Lake Lodge did not operate in 2020 due to the border restrictions.  It was not a viable option for us to operate with only a couple dozen Canadian guests as we rely highly on our American guests who have fished with us for many years.  Fortunately, we kept our expenses to a minimum and we are able to apply all the deposits we received for trips in 2020 to 2021.  
It is difficult to say whether the borders will open in time for us to have a season in 2021, we certainly did not expect these restrictions to last as long as they have so we simply do not know what the future holds.  As we all know, the vaccine provides some reason to be optimistic but whether there will be a new strain of the virus or if the vaccines all of a sudden become less effective or cause negative side affects, there could be further delays to the border opening.  There could also be restrictions such as the proof of having the vaccine in order to travel.  Since this started back in March, we have not have a clue as to what is going to happen next or how long this will last, not knowing and trying to plan for different possibilities has been the most difficult part for us.
If the border remains closed or additional travel restrictions prevent our guests from visiting us in 2021, 50% of unused deposits will be applied to 2022, which means that 50% of deposits will be forfeit as we still have many expenses even without operating.  If the border is open and guests choose not to visit in 2021, then 100% of their deposit will be forfeit.
Assuming the borders do open before our season commences, please be assured that we will make every effort to protect our guests and our staff from the virus by adhering to any and all recommendations from Health Canada.  We will likely require masks while in flight, we may have to serve dinner in your cabins, we will have sanitation stations in cabins and in the lodge and your guides will do all they can to keep you safe. 
We truly hope that we will know if the borders will open by early April so that we can prepare for the season, but we will be ready even if we find out at the last minute. 
Although I have mentioned some very unwelcomed possibilities, we expect that 2021 could be one of our best seasons!  Jodi and I are very optimistic that it's all going to work out for our guests and staff this year!
Enjoy a world-class fishing adventure in our remote northern getaway. Our natural abundance of fish, clean air, and scenery makes Bolton Lake Lodge and Outposts your ultimate fishing destination.
Northern Manitoba's best kept secret is yours to discover. We invite you to experience everything we have to offer, from our natural lakes to our magnificent wildlife. It's all here waiting for you.
Whether it's spring, summer or fall, Bolton Lake Lodge & Outposts is ready to accommodate you. Book your vacation today to experience everything we have to offer.
Call us today at 1-800-665-5321 or visit our rates page for more details.
---

---
Experience Everything We Have To Offer
Imagine waking up on a warm sunny morning and breathing in that fresh Northern Manitoba air as you begin your daily fishing expedition. But before leaving you stroll over to the lodge for a hot home cooked breakfast.
Then you head down to the dock where your boat is almost ready. Your professional guide has taken care of all of the details and reminds you to sit back as he loads up your gear. Your only job today is to take in the scenery and catch enough fish to have a shore lunch.
You visit a variety of places on the lake where you reel in some of the largest fresh water fish you've ever seen. Amazed at the size of your catches, you stop and take a few photos to show your friends for when you get back home.
Around noon, your guide points to an area on the side of the lake where you will take a break and have lunch. You sit back and admire the scenery as your guide prepares an authentic shore lunch of freshly caught fish.
For the rest of the afternoon you continue to reel in the big ones and soak up the sun. You are so proud of how many fish you caught today that you can't wait to see what tomorrow brings.
After your active day of fishing, you head back to relax in our full service lodge. We are there to welcome you back and make you feel at home as we prepare you a hearty supper with all the trimmings.
Just when you thought the day was over, we invite you to relax in our lounge and recap your day. You are met there by several other fishermen who can't wait to share their story about the one that got away. With a full selection of cocktails and drinks available, you decide this will be a perfect way to end your day.
That's another typical day at Bolton Lake that so many guests have enjoyed.
---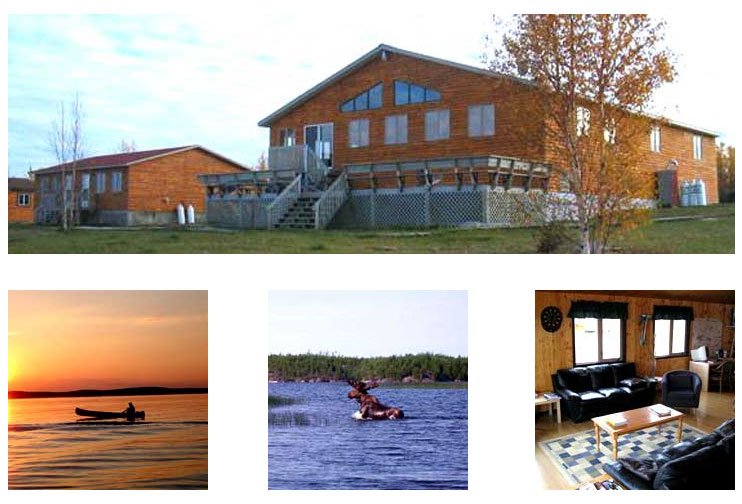 ---