May18th, 2004: The fishing is improving for my hardy group of anglers who have a two week fishing trip and arrived here on Monday because it's nicer here than in Winnipeg! We tried to access the back bay and we gained access by towing a boat to hole number one. Most of our June guests know #1 as a great Pike and Walleye spot, this is what it looks like today:
We were able to travel a long distance on the open water and we could have broken through about 100 yards of ice to get into Mink Creek. One of the three brave fishermen who fished from the edge of the ice caught 3 Pike and 1 nice Walleye in about an hour. The other two guys lost count as they fished from dry land in the shallows with fly rods.
By tomorrow there should be double the amount of open water back there since we're having a beautiful day on Bolton Lake. The weather is suppose to stay nice until the weekend, and after that it's anybody's guess.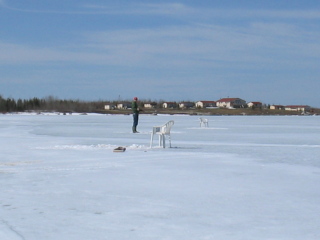 Here's another great shot of our adventures from today before we decided to drive down to hole #1. The fish are definitely not in spots like this, we didn't even get a bite. They're all back in #1, the Mink and any other open water that we can find.
Tomorrow should be even better!