May 11th, 2004: Things are looking a bit grim for opening the camp early this year. We have guests arriving on Sunday and they may be ice fishing! It's snowing like crazy today and we have very little open ice at the lodge. If things continue like this it will be difficult to open on time. I believe we are only a week away from having enough open water once we get some nice weather. I will keep you posted on ice and weather conditions and I'm planning to be at the lodge on Friday. Most of the staff will be going up this weekend followed by the guests on May 24th. I'm very confident that it will not be a problem for the guests on the 24th, but for the earlier guests it's not looking good. Check out this picture I took earlier today in St. Andrews: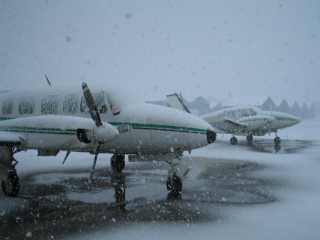 The weather at the lodge is actually a lot nicer today. It's clear and should get to about 45 degrees today. There is a link below for the current weather close to Bolton Lake.
We are happy to welcome back the majority of our staff including our 8 year veteran guides; Yvon and Winston along with our 7 year vets; Marcel, Willie, and Doc. Other staff including Churchill, Regi, Cedrick, Robin, Glenda, Deanne, Harley and Justin will all be returning for at least their second season but for most their 5th season. It's a very nice testament to how we treat our staff when they almost all come back!